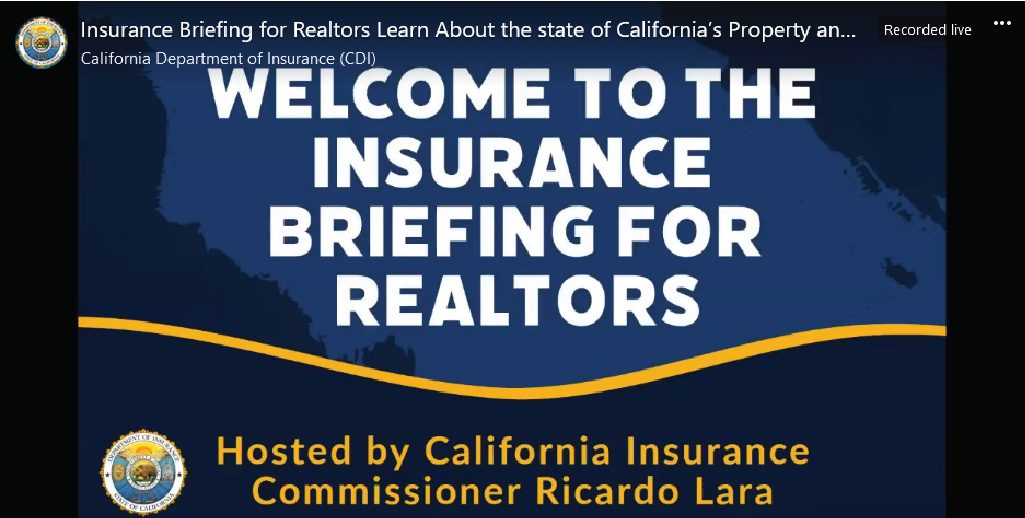 Insurance Briefing for REALTORS: Learn About the state of California's Property and Casualty Insurance Market
ONLINE ANYTIME!
Cost: FREE
Description: Insurance Commissioner Ricardo Lara invites you to hear from experts at the Department of Insurance, United Policyholders and California Association of Realtors on the state of California's property and casualty insurance market and how the new safer from wildfires regulation can help homeowners and businesses qualify for insurance discounts.
– Safer landscaping and staging
– Answer consumers' questions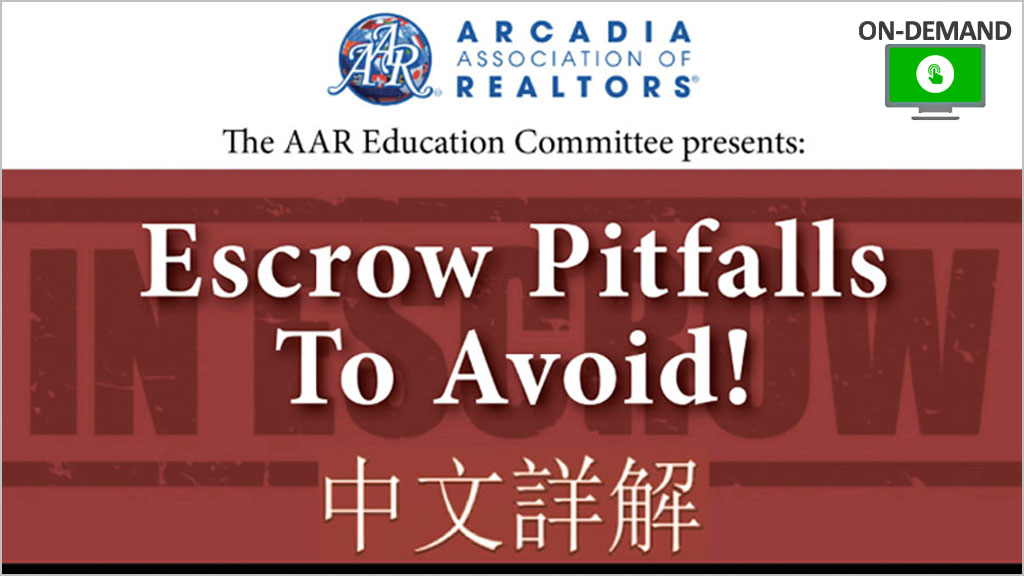 "Escrow Pitfalls to Avoid" taught in Mandarin
ONLINE ANYTIME!
Cost: FREE
Description: Mandarin Instructor: Kitty Ip, Escrow Manager, Olympus Escrow, to learn the Top 5 escrow issues to avoid a delay or cancellation! TAUGHT IN MANDARIN.
"Introduction to Real Estate Investments" with Ed Estes
ONLINE ANYTIME!
Cost: FREE
Description: Join the AAR Education and Commercial Committees and our instructor Ed Estes to learn about Investment Real Estate: factors that can affect any investment, considerations for investors, how investment decisions are made, valuating income properties and analyzing pre-tax and after-tax cash flows of investment real estate. Price (cap, rates and multipliers) and Cash Flow (debt coverage ratios, expense ratios and cash rate of return) Indicators will be explained and demonstrated. Case studies of income properties will also be presented.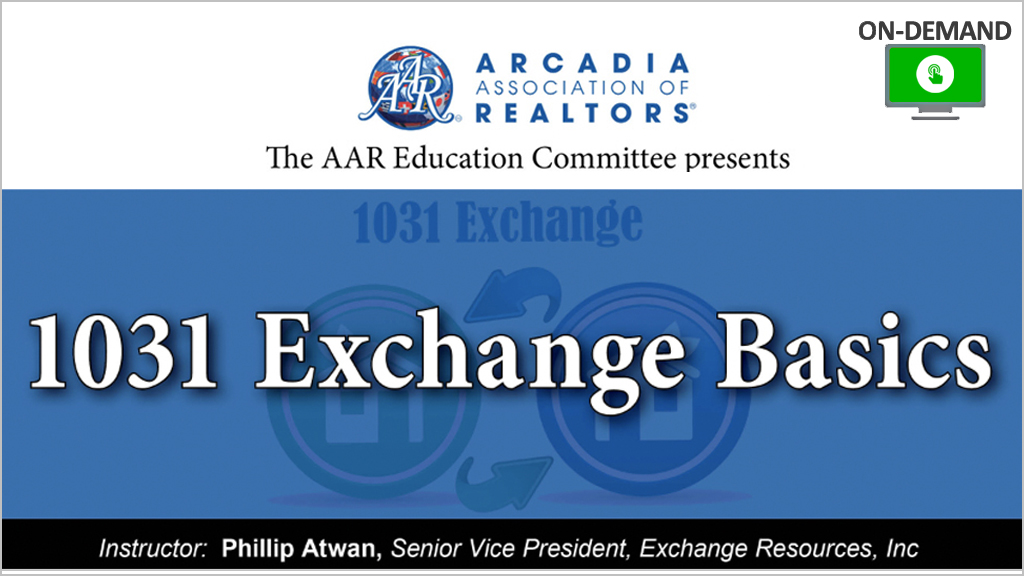 "1031 Exchange – Basics" with Phillip Atwan
ONLINE ANYTIME!
Cost: FREE
Description: Why so many Investors are Exchanging and how to take advantage of the opportunity!
• How the 1031 Exchange works
• How to create new Investor Relationships in 2022
• Marketing Material / Contact Letters
• The different kinds of 1031 Tax Deferred Exchanges
• How to create additional Cash Flow for my Investor
• How to create additional Income Tax Savings for my Investor
• How to Diversify an Investment Portfolio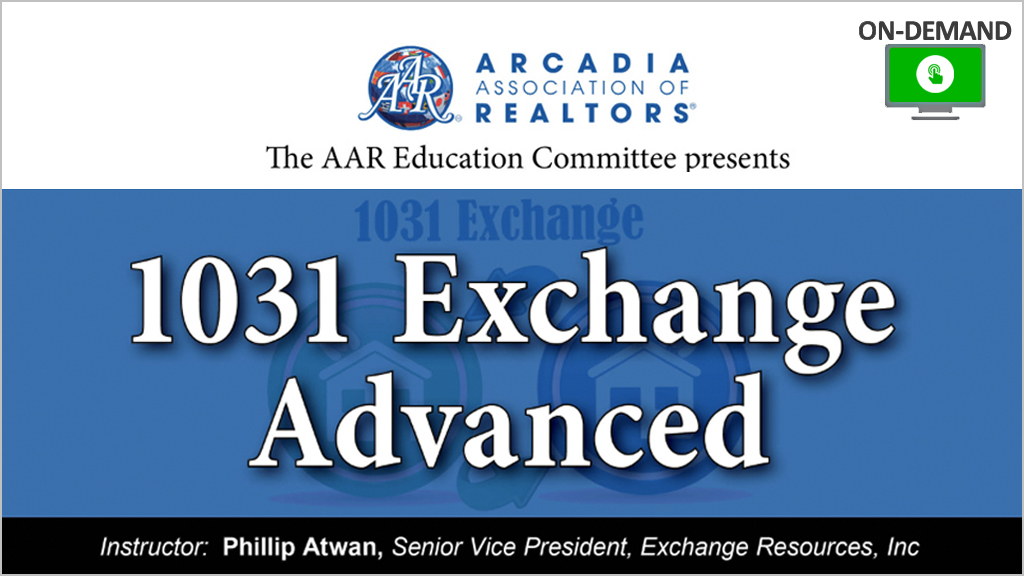 "1031 Exchange – Advanced" with Phillip Atwan
ONLINE ANYTIME!
Cost: FREE
Description: What YOU and YOUR Client need to know within an Exchange!
• Related Parties Selling or Buying with each other
• Converting Ownership From or To Partnership Interest / Taking Title
• Exchanging a property to Build an ADU?
• Seller Carry Back Financing
• California Claw-Back – HOW DOES IT WORK?
• Moving Into a Rental previously Exchanged into?
• Reverse and Build to Suit Exchanges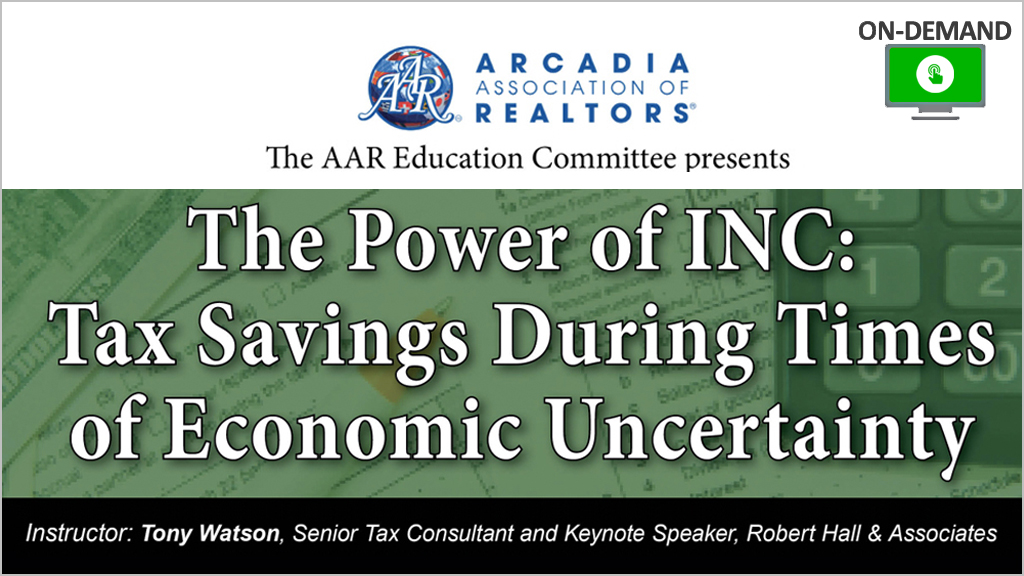 "The Power of INC: Tax Savings During Times of Economic Uncertainty" with Tony Watson
ONLINE ANYTIME!
Cost: FREE
Description: During this presentation, Tony Watson of Robert Hall & Associates will present real life tried and true tax strategies used in the real estate industry. You will be able to use these tips and tricks to navigate through the 2022 tax year, so you can retain more of your real estate wealth into the next decade!
Tony Watson will discuss:
1. Entity selection: LLC, C Corp, S Corp – Tax implications of each
2. Is incorporating right for me?
3. How do I pay myself a reasonable salary?
4. Can I rent back my in-home office to myself?
5. Can I incorporate in a different state to save money?
6. The difference between an LLC, a trust, & an insurance policy
7. Changes in the tax code for 2021-2022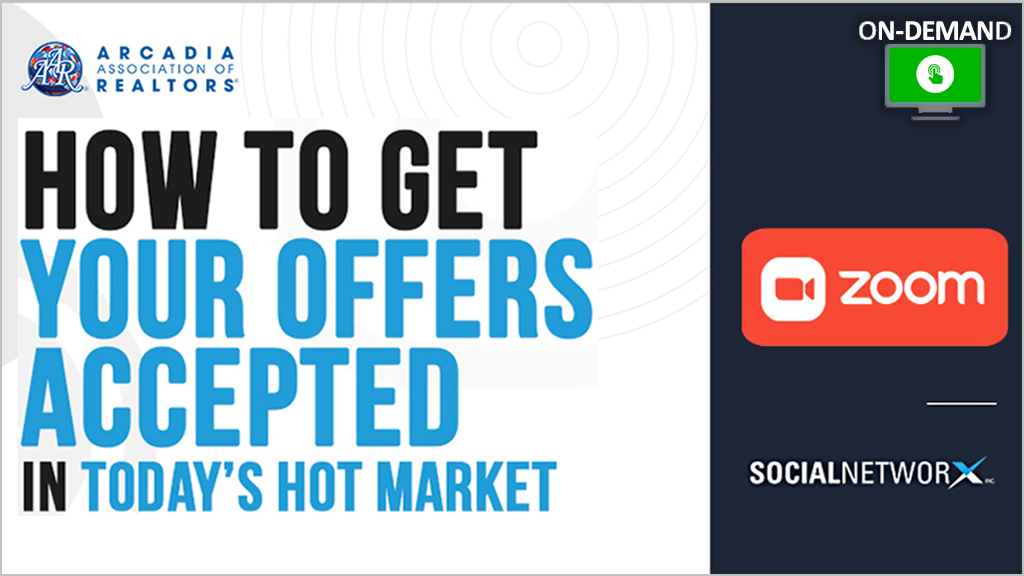 "How to Get Your Offers Accepted in Today's Hot Market"
ONLINE ANYTIME!
Cost: FREE
Description: Are your buyers struggling to get their offers accepted in today's market? Demand is high, inventory is low, rates are increasing, and many listings are receiving dozens of competing offers within days of hitting the market. How can you as a buyer's agent effectively set your clients up for success? We're going to show you.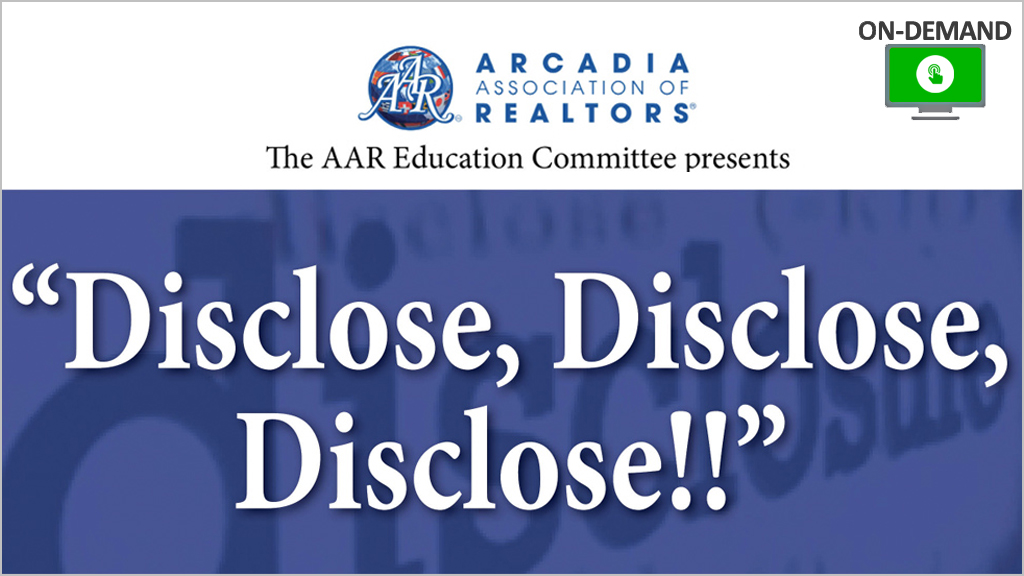 "Disclose, Disclose, Disclose!!"
ONLINE ANYTIME!
Cost: FREE
Description: Disclose, Disclose, Disclose… you have heard these are the most important words an agent can use to prevent a lawsuit. But do you know what all of the disclosures the law and your Broker require mean and why they are used? In this course, your instructor will explain what is done with each disclosures, why they are required, and when they are to be used.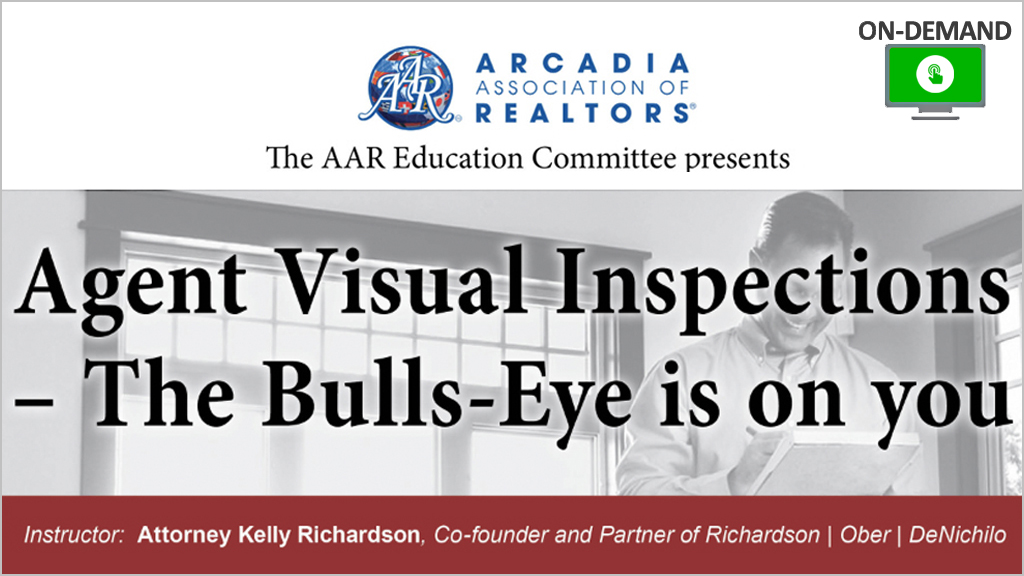 "Agent Visual Inspections – The Bulls-Eye is on you"
ONLINE ANYTIME!
Cost: FREE
Description: According to CAR, one of the top 2 claims against real estate professionals is the allegation that they did not conduct a reasonably diligent visual inspection as required by Civil Code Section 2079. In this presentation, Association counsel Kelly G. Richardson discusses the bulls-eye that is on your back.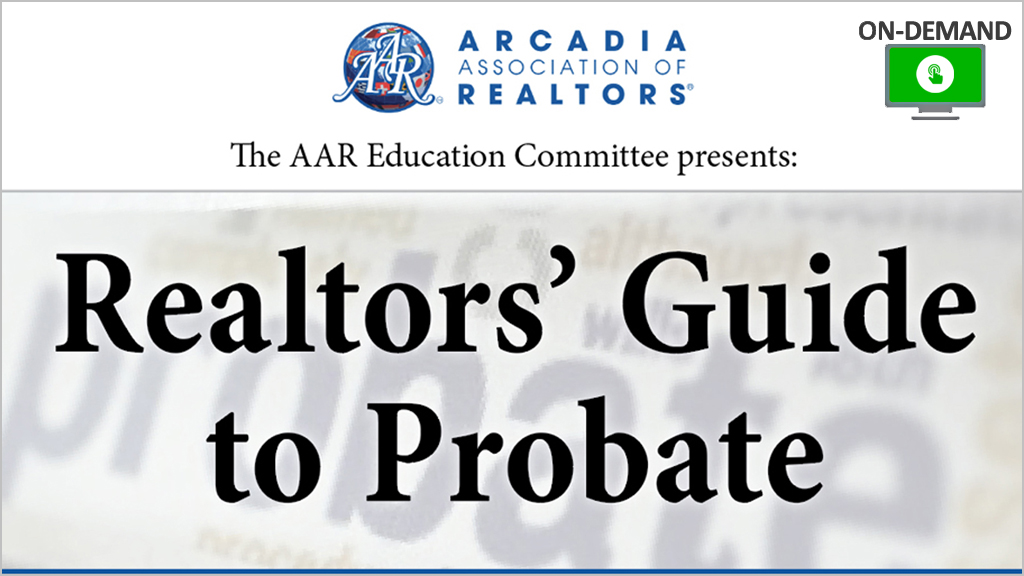 "Realtors' Guide to Probate"
ONLINE ANYTIME!
Cost: FREE
Description: Attorney Georgina Lepe will discuss the following: • An Overview of the Probate Process • Forms to use in Probate Transactions • Full Authority vs. Limited Authority • Summary Probate Procedures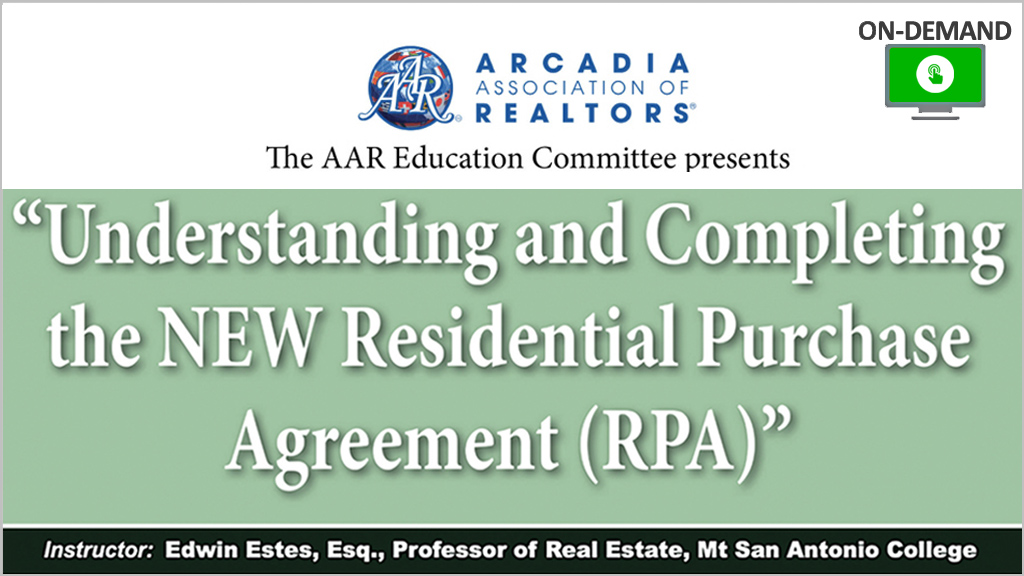 "New California – Residential Purchase Agreement" with Ed Estes
ONLINE ANYTIME!
Cost: FREE
Description: Join instructor Ed Estes to learn everything you need to know about the NEW RPA!
• Now containing 16 pages with a NEW Grid Format
• Includes New Disclosures like: Fire Hardening & Defensible Space
• New Contingency Section with the eight (8) standard contingencies clearly listed
• Updated Contingency Removal Procedures & Designated Electronic Delivery of Disclosures/Notices
• Reformatted Allocation of Costs Section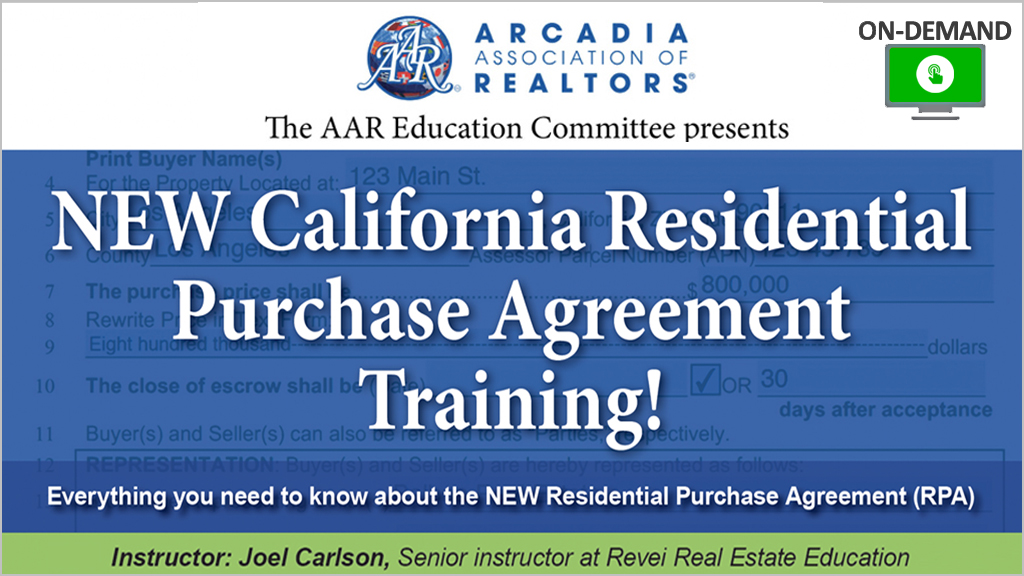 "New California RPA" with Joel Carlson
ONLINE ANYTIME!
Cost: FREE
Description: The NEW California Residential Purchase Agreement is the cornerstone of every successful real estate transaction in the state of California which includes several essential concepts, principles, and facts essential for REALTORS®
Instructor: Joel Carlson, Master Instructor and author for CAR and Designated Instructor of the National Association, DREI, CREC. Joel is also the owner/broker of MJC Realty in Newport Beach..